Woh Pehli Baar sung by Shaan is one of the ultimate classics that'll never get old with mere years passing by. Enjoy this bollywood love song from Pyaar Mein Kabhi Kabhi and feel the love with Dino Morea and Rinke Khanna.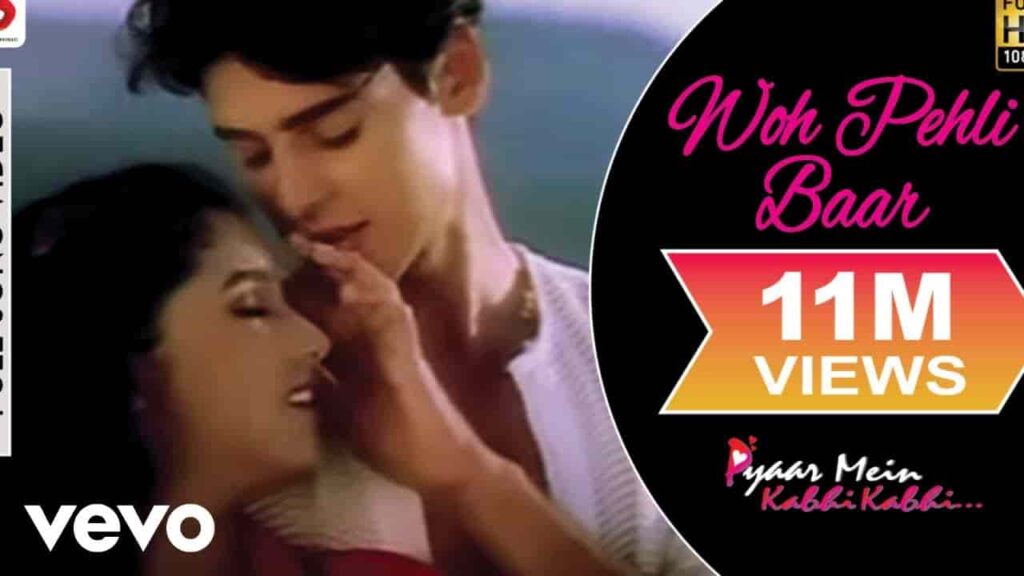 Song Name – Woh Pehli Baar
Movie – Pyaar Mein Kabhi Kabhi
Singer – Shaan
Composer – Vishal Shiraz Samrat
Lyricist – Raj Kaushal & Vishal Dadlani
Music Label – Sony Music Entertainment India Pvt. Ltd.
Woh pehli baar jab ham mile,
Hathon mein haath jab ham chale
Hogaya yeh dil deewana
Hota hai pyar kya kisne jaana
Teri aankhon mein jannat basa ke chala,
Teri zulfo ki chauv mein chalta chala
Tere naino mein chain, tere lab pe khushi,
Tujhko hee main mohobbat bana ke chala
Woh pehli baar jab ham mile,
Hathon mein haath jab ham chale
Hogaya yeh dil deewana
Hota hai pyar kya kisne jaana
Teri aankhon mein jannat basa ke chala,
Teri zulfo ki chauv mein chalta chala
Tere naino mein chain, tere lab pe khushi,
Tujhko hee main mohobbat bana ke chala
Woh pehli baar jab ham mile,
Ho gaye suru ye silsile
Hogaya yeh dil deewana,
Hota hai pyar kya kisne jaana
Khilti kaliyon mein dhundhu bas tere nishan
Main na jaanu hai aakhir yeh kya karva
Tujhe dekhu to aaye lab pe khushi
Khuda na kare ho kabhi duriya
Woh pehli baar jab ham mile,
Hathon mein haath jab ham chale
Hogaya yeh dil deewana,
Hota hai pyar kya humne jaana
Hogaya hun mai pagal ab tere liye
Tere bin dil bechara yeh kaise jeeye
Maine khoyee hai chain payee tujhme khushi
Tu banni jaane jaana meri zindagi
Woh pehli baar jab ham mile,
Hathon mein haath jab ham chale
Hogaya yeh dil deewana,
Hota hai pyar kya  humne jaana [x2]