"Nobody's Love" is American pop-rock band Maroon 5's first song of 2020 and serves as the second single for their upcoming sixth studio album.
The song is a revamped sound from the band's fifth studio album, V, which was released in August 2014. The instrumental of it consists of light drums and harmonized electric guitars and a blending synth keyboard.
Lyrically, the song was inspired by the tough times in the world that were going on at the time of its release: the COVID-19 pandemic and the Black Lives Matter protests. The band's lead singer Adam Levine explained the inspiration of the song through an Instagram post and claimed the song's intention was to give love and hope to the listener about the tough times.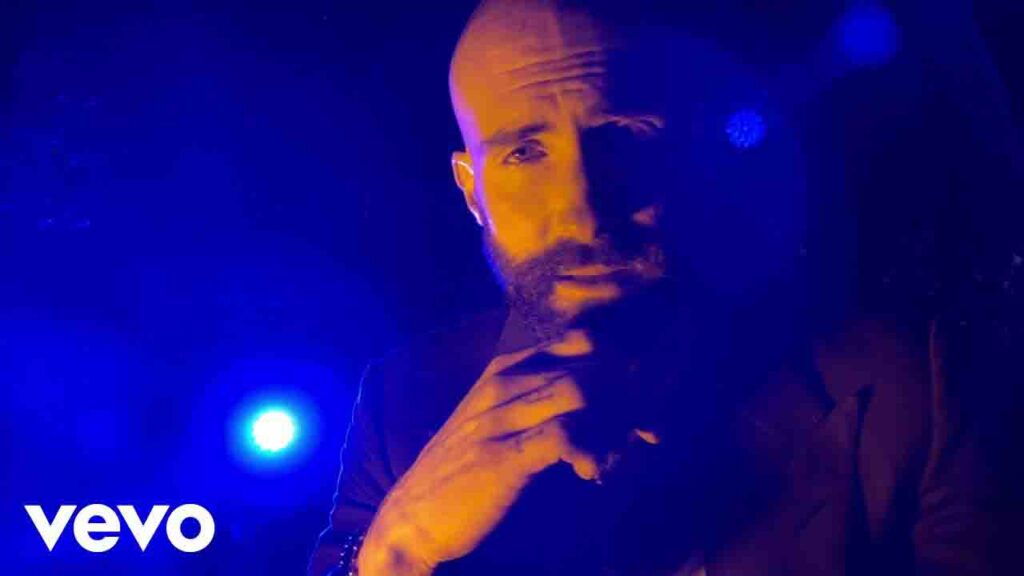 Song Name : Nobody's Love
Singer : Adam Levine
Lyricist : Ryan OG, Adam Levine, Nija, Jacob Kasher, Michael Pollack, B Ham, Jordan K. Johnson, Stefan Johnson, Kareen Lomax & Soaky Siren
Mixer: Șerban Ghenea
Executive producers: Ryan OG, German (Producer), B Ham & The Monsters & Strangerz
Release Date: July 24, 2020
[Intro]
You could make a grown man cry
If you ever said "Goodbye"
Never let you go, oh, I (Never let you go, oh, I)
You could make a grown man cry
If you ever left my side
Never let you go, oh, I (Never let you go, oh, I)
[Verse 1]
You're the only hand in my back pocket
If you ever left, I'd go psychotic
Heaven, hear me cryin', cryin' (Ooh, ooh, ooh)
Baby, you're the key to my heart, lock it
If you ever left, never unlock it
Lonely like an island, island (Ooh, ooh, ooh)
[Chorus]
If my love ain't your love
It's never gonna be nobody's love
I'm never gonna need nobody's love but yours (But yours)
If my love ain't your love
It's never gonna be nobody's love
Never gonna need nobody's touch but yours (But yours)
[Refrain]
You could make a grown man cry
If you ever said "Goodbye"
Never let you go, oh, I (Never let you go, oh, I)
You could make a grown man cry
If you ever left my side
Never let you go, oh, I (Never let you go, oh, I)
[Verse 2]
You're the only hand in my back pocket
If you ever left, I'd go psychotic
Heaven hear me cryin', cryin' (Ooh, ooh, ooh)
Hit me like a drug and I can't stop it
Fit me like a glove and I can't knock it
I ain't even lyin', lyin' (Ooh, ooh, ooh)
[Chorus]
If my love ain't your love
It's never gonna be nobody's love
I'm never gonna need nobody's love but yours (Nobody's, but yours)
If my love ain't your love
It's never gonna be nobody's love
Never gonna need nobody's touch but yours (But yours)
[Post-Chorus]
If my love ain't your love, then it's nobody's
Only yours, only yours, not just anybody's
And if you ever leave, then I'm never gon' want
Nobody, nobody's love
If my love ain't your love, then it's nobody's
Only yours, only yours, not just anybody's
And if you ever leave, then I'm never gon' want
Nobody, nobody's love
Nobody's love
Oh, yeah
[Chorus]
If my love ain't your love
It's never gonna be nobody's love
I'm never gonna need nobody's love but yours (No, no, but yours)
If my love ain't your love
It's never gonna be nobody's love
Never gonna need nobody's touch but yours (No, no, no, no, but yours)
[Post-Chorus]
If my love ain't your love, then it's nobody's
Only yours, only yours, not just anybody's
And if you ever leave, then I'm never gon' want
Nobody, nobody's love
If my love ain't your love, then it's nobody's
Only yours, only yours, not just anybody's
And if you ever leave, then I'm never gon' want
Nobody, nobody's love
[Intro]
Podrías hacer a un hombre adulto llorar
Si alguna vez dijeras "Adiós"
Nunca te dejaría ir, oh, yo (nunca te dejo ir, oh, yo)
Podrías hacer a un hombre adulto llorar
Si alguna vez dijeras "Adiós"
Nunca te dejaría ir, oh, yo (nunca te dejo ir, oh, yo)
[Estrofa 1]
Tú eres la única mano en mi bolsillo trasero
Si alguna vez te vas, me volvería psicótico
Cielos, escúchame llorar, llorar (ooh, ooh, ooh)
Cariño, eres la llave de mi corazón, ciérralo
Si alguna vez te vas, no lo abras
Solo como una isla, isla (ooh, ooh, ooh)
[Estribillo]
Si mi amor no es tu amor
Nunca va ser el amor de nadie
Nunca voy a necesitar el amor de nadie, solo el tuyo (solo el tuyo)
Si mi amor no es tu amor
Nunca va ser el amor de nadie
Nunca voy a necesitar el amor de nadie, solo el tuyo (solo el tuyo)
[Refrain]
Podrías hacer a un hombre adulto llorar
Si alguna vez dijeras "Adiós"
Nunca te dejaría ir, oh, yo (nunca te dejo ir, oh, yo)
Podrías hacer a un hombre adulto llorar
Si alguna vez dijeras "Adiós"
Nunca te dejaría ir, oh, yo (nunca te dejo ir, oh, yo)
[Estrofa 2]
Tú eres la única mano en mi bolsillo trasero
Si alguna vez te vas, me volvería psicótico
Cielos, escúchame llorar, llorar (ooh, ooh, ooh)
Me diste como una droga y no lo puedo parar
Me quedabas como un guante y no me lo puedo quitar
Ni siquiera estoy mintiendo, mintiendo (ooh, ooh, ooh)
[Estribillo]
Si mi amor no es tu amor
Nunca va ser el amor de nadie
Nunca voy a necesitar el amor de nadie, solo el tuyo (el de nadie, solo el tuyo)
Si mi amor no es tu amor
Nunca va ser el amor de nadie
Nunca voy a necesitar el amor de nadie, solo el tuyo (solo el tuyo)
[Post-estribillo]
Si mi amor no es tu amor, entonces no es de nadie
Solo tuyo, solo tuyo, no de cualquiera
Y si alguna vez te vas, entonces no voy a querer nunca
Nadie, el amor de nadie
Si mi amor no es tu amor, entonces no es de nadie
Solo tuyo, solo tuyo, no de cualquiera
Y si alguna vez te vas, entonces no voy a querer nunca
Nadie, el amor de nadie
El amor de nadie
Oh, sí
[Estribillo]
Si mi amor no es tu amor
Nunca va ser el amor de nadie
Nunca voy a necesitar el amor de nadie, solo el tuyo (no, no, solo el tuyo)
Si mi amor no es tu amor
Nunca va ser el amor de nadie
Nunca voy a necesitar el amor de nadie, solo el tuyo (no, no, no, no)
[Post-estribillo]
Si mi amor no es tu amor, entonces no es de nadie
Solo tuyo, solo tuyo, no de cualquiera
Y si alguna vez te vas, entonces no voy a querer nunca
Nadie, el amor de nadie
Si mi amor no es tu amor, entonces no es de nadie
Solo tuyo, solo tuyo, no de cualquiera
Y si alguna vez te vas, entonces no voy a querer nunca
Nadie, el amor de nadie