Lose yourself and groove to one of the most scintillating tracks of the year – The Breakup Song. A quirky and fun dance number, this song packs an electrifying punch that is sure to get your feet tapping.
The track stars Ranbir Kapoor and Anushka Sharma.
Written & directed by Karan Johar
Releasing this Diwali, on 28th October, 2016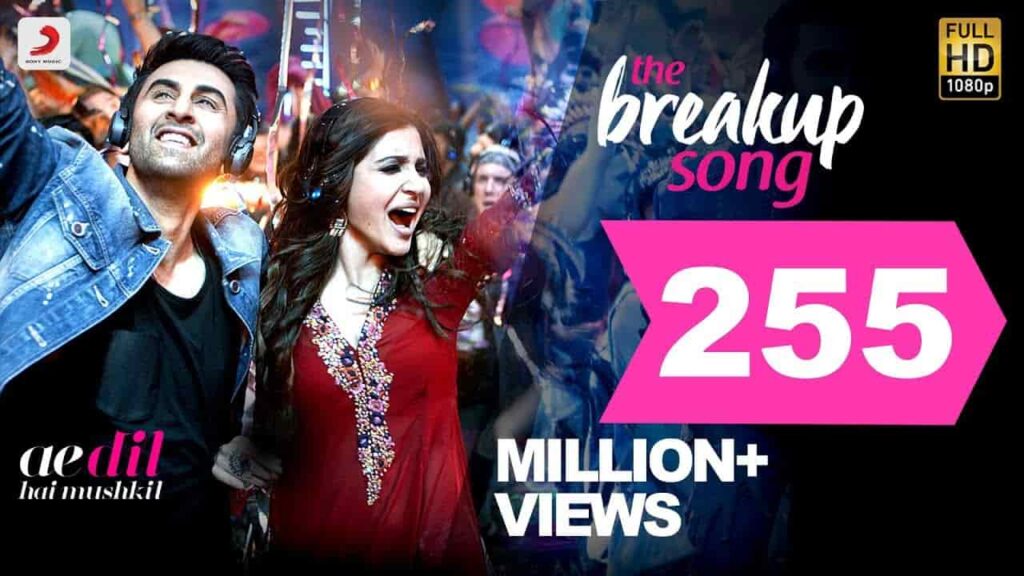 Music – Pritam
Lyrics- Amitabh bhattacharya
Singers- Arijit Singh, Badshah, Jonita Gandhi & Nakash Aziz
Sound Design- Dj Phukan, Sunny M.R.
Music Programmer- Sunny M.R., Arijit Singh, Dj Phukan, Rohan Chauhan, Hyacinth D'Souza & Qaran Mehta
Mix & Master- Shadab Rayeen@Newedge
Assistant – Abhishek Sortey
Recording Engineers- Ashwin Kulkarni, Himanshu Shirlekar, Kaushik Das
Vocal Conductor- Akashdeep Sengupta & Kaushik Das
Production Manger- Supriti Banerjee
Musicians-
Ethnic Instruments- Tapas Roy
Dholak- Iqbal Azad & Yusuf Sheikh
Banner – Dharma Productions and Fox Star Studios
Audio on Sony Music Entertainment India Pvt. Ltd.
(C) 2016 Sony Music Entertainment India Pvt. Ltd.
The breakup song, breakup song
Kar de dil ki feeling strong
Saadhe char minute long
Breakup song, breakup song
Breakup B B breakup….
Break break breakup song..
Break break B B breakup song…
Angrezi chidiya ki khatir
Desi dil mera tod diya
Maine chhod diya, use chhod diya
Uski kaali kartooton ne
Uska bhaanda phod diya
Maine chhod diya, use chhod diya
Dil pe pathar rakh ke
Munh pe makeup kar liya x (2)
Mere saiyan ji se aaj maine
Breakup kar liya x (2)
Subah savere uth ke maine
Yeh sab kar liya
Mere saiyan ji se aaj maine
Breakup kar liya
Humko bin bataaye toone
Yeh kab kar liya
Arre humko bin bataaye toone
Yeh kab kar liya
Tere saiyan ji se kaahe toone
Breakup kar liya x (2)
Subah savere uth ke maine
Yeh sab kar liya
Tere saiyan ji se kaahe toone
Breakup kar liya
Kuchh din to rona dhona bumper kiya
Aur phir delete uska number kiya
Aansu jo sukhe seedha parlor gayi
Parlor mein jaake shampoo jam kar kiya
College ki saheliyon se
Catch up kar liya
Arre college ki saheliyon se
Catch up kar liya
Jinko mil na paayi
Unko whatsapp kar diya
Mere saiyan ji se aaj maine
Breakup kar liya
Subah savere uth ke maine
Yeh sab kar liya
Mere saiyan ji se aaj maine
Breakup kar liya
Look baby
Mujhe lagta hai ki jo bhi toone kiya hai
Woh very very right ae
Bhootkaal ko bhool ja ab tu
Aane wala future very very bright hai
Main hoon na baby sath tere
Haan party-sharty honi poori night hai
Mind na karna jo thoda zyada bol doon
Kyun ki banda very very tight hai
Usse phone mila aur gaali de
Photo jala ke kar de raakh
Saale teri maa ki aankh
Kalti hua jo saiyan stupid tera
Jeevit hua hai phir se cupid tera
Baasi relationship ka label hata
Duniya ko tu hai available bata
Mere soye armaanon ko
Wake up kar diya
Arre mere soye armaanon ko
Wake up kar diya
Jo tere saiyan ji se aaha
Toone breakup kar liya
Tere saiyan ji se kaahe toone, toone
Tere saiyan ji se kaahe toone
Breakup kar liya x (2)
Breakup song
Karde dil ki feeling strong