The romantic duet "Tere Bina' shows the love story between the beautiful Aishwarya Rai and Abhishek Bachchan from the Bollywood movie Guru. The music of this film is directed by A.R. Rahman with lyrics by Gulzar, and this song features the voice of A.R. Rahman and Chinmayee. 'Guru' is a 2007 Bollywood drama loosely based on Dhirubhai Ambani, the business tycoon of India who founded Reliance Industries. Directed by Mani Ratnam, the film stars Abhishek Bachchan, Aishwarya Rai in the lead and R. Madhavan, Vidya Balan, Arya Babbar, Mithun Chakraborty in supporting roles. The soundtrack of 'Guru' won numerous accolades including the Filmfare, IIFA, Zee cine and Starscreen awards for Best Music Direction for A.R. Rahman.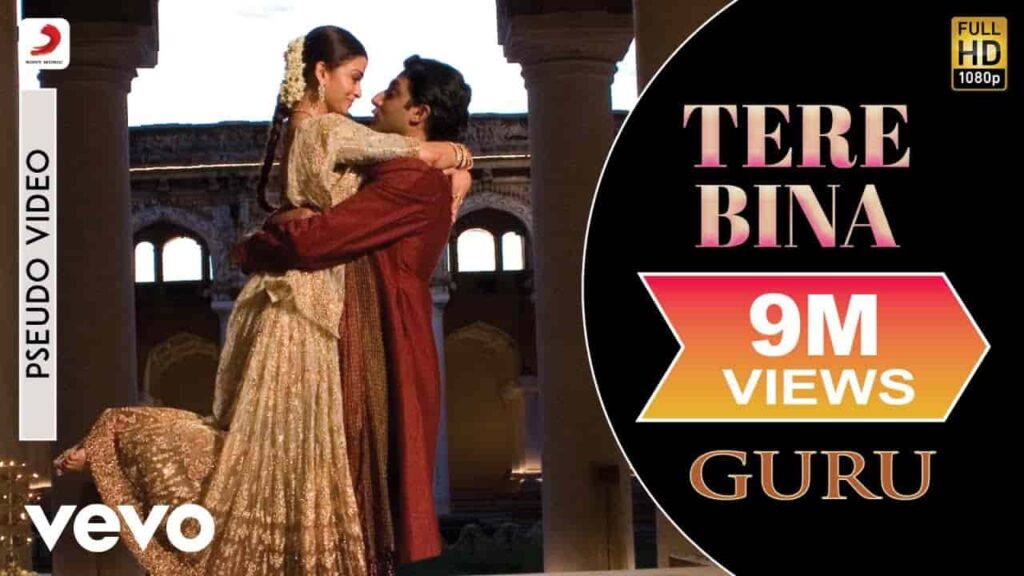 Song Name – Tere Bina
Movie – Guru
Singer – A.R. Rahman, Chinmaye, Murtuza Khan & Qadir Khan
Composer – A.R. Rahman
Lyricists – Gulzar
Music Label – Sony Music Entertainment India Pvt. Ltd.
© 2006 Sony Music Entertainment India Pvt. Ltd.
Dum dara dum dara mast mast dara
Dum dara dum dara mast mast dara
Dum dara dum dum
O, hum dum bin tere kyaa jeenaa
O, hum dum bin tere kyaa jeenaa
Tere bina beswaadi beswaadi ratiyaan, oh sajna
Tere bina beswaadi beswaadi ratiyaan, oh sajna
Rookhi re oh rookhi re
Kaatore kaate katena
Tere bina beswaadi beswaadi ratiyaan, oh sajna
Tere bina beswaadi beswaadi ratiyaan, oh sajna
Dum dara dum dara mast mast dara
Dum dara dum dara mast mast dara
Dum dara dum dum
Oh hum dum bin tere kyaa jeenaa
Oh hum dum bin tere kyaa jeenaa
Ga ga re sa… sa sa sa sa sa pa ma ga..ga re sa
Sa re ga re ga ma ga ma pa.. ma ga re sa
Sa sa sa ni re sa re sa ni dha pa ma ga pa ma ga
Ga ga ma pa dha pa ga ma
Re ga sa pa sa ni re sa ni sa pa ma ga
Pa pa sa ni re sa ni sa pa ma ga
Ma pa dha ni dha ni dha pa
Re ga ma pa ga ma pa
Oho o…
Naa jaa chaakri ke maare, naa jaa souten pukaare
Saawan aeyega to poochegaa
Naa jaa re
Pheeki-pheeki beswaadhi, ye ratiyaan
Kaatore kate naa kate naa
Ab tere binaa sajnaa sajnaa
Kaate kate naa
Katenaa katenaa tere binaa
Tere bina beswaadi beswaadi ratiyaan, oh sajnaa oh
Dum dara dum dara mast mast dara
Dum dara dum dara mast mast dara
Dum dara dum dum
Oh hum dum bin tere kyaa jeenaa
Oh hum dum bin tere kyaa jeenaa
Tere binaa chaand kaa sonaa khotaa re
Peeli peeli dhool undaawe jhootaa re
Tere binaa sonaa peetal
Tere sang keekar peepal
Aaja katenaa ratiyaan
Dum daraa dum daraa mast mast daraa
Dum daraa dum daraa mast mast daraa
Dum daraa dum dum
O, hum dum bin tere kya jeena
Tere binaa beswaadi beswaadi
Ratiyaan, oh sajnaa oh
Rukhiri re rukhire kaatore katenaa
Dum daraa dum daraa mast mast daraa
Dum daraa dum daraa mast mast daraa
Dum daraa dum dum
O, hum dum bin tere kyaa jeenaa
O, hum dum bin tere kyaa jeenaa