'Chura Liyaa Hai Tumne' the romantic video of the Title track "Churya Liya Hai Tumne" features Esha Deol and Zayed Khan, playback singing by Shaan. You would want to dedicate this song for your beloved. The music of this film is directed by Himesh Reshammiya and features Shaan and Alka Yagnik's voice. This movie is a Bollywood film which is directed by Sangeeth Sivan Zayed Khan made his film debut with this film. This film is inspired by 1963 Hollywood film Charade.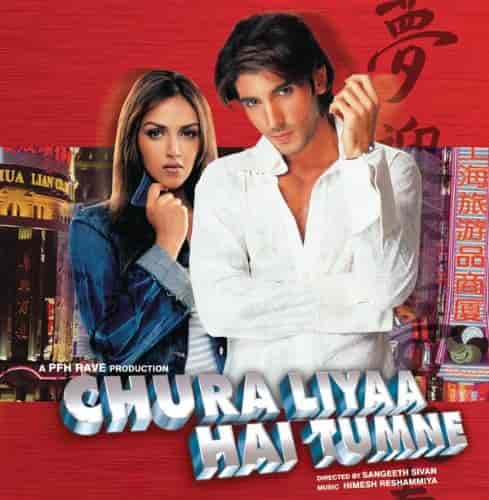 Song Name – Chura Liya hai Tumne
Movie – Chura Liya hai Tumne
Singer – Shaan & Gayatri Iyer
Composer – Himesh Reshammiya 
Lyricists – Sanjay Chhel
Music Label – Sony Music Entertainment India Pvt. Ltd.
–MALE–
Aankhon se kaajal ki tarah
Phoolon se khushboo ki tarah
Dil ko chura liya hai tumne
–FEMALE–
(Chura liya)
–MALE–
Chura liya hai tumne
–FEMALE–
(Chura liya)
–MALE–
(Aankhon se kaajal ki tarah
Phoolon se khushboo ki tarah) – 2
Dil ko chura liya hai tumne
–FEMALE–
(Chura liya)
–MALE–
Chura liya hai tumne
–FEMALE–
(Chura liya)
–MALE–
O jaana, yeh kya kiya tumne – 2
Aankhon se kaajal ki tarah
Phoolon se khushboo ki tarah
Dil ko chura liya hai tumne
–FEMALE–
(Chura liya)
–MALE–
Chura liya hai tumne
–FEMALE–
(Chura liya)
–MALE–
Zikr tera hawaaon se jab bhi kiya karte hain
Yaadon mein teri khushboo ka hum maza liya karte hain
Palkon se neendon ki tarah
Neendon se khwaabon ki tarah
Dil ko chura liya hai tumne
–FEMALE–
(Chura liya)
–MALE–
Chura liya hai tumne
–FEMALE–
(Chura liya)
–CHORUS–
Tassavur tera karte hain hum
Kiye jaa rahe hain aashiqui sanam
–FEMALE–
Chura liya hai, chura liya hai
–MALE–
Tumne chura liya hai
–FEMALE–
Aksar yeh sunte the hum, ishq to hai deewanapan
Tumse milke jaan gaye, sach kehte the log sanam
Honton se hansi ki tarah
Hansi se khushi ki tarah
Dil ko chura liya hai tumne
–MALE–
(Chura liya)
–FEMALE–
Chura liya hai tumne
–MALE–
(Chura liya)
–FEMALE–
O jaana, yeh kya kiya tumne – 2
–MALE–
Chura liya hai tumne
–FEMALE–
(Chura liya)
Chura liya hai tumne
–MALE–
(Chura liya)
Chura liya hai tumne
–FEMALE–
(Chura liya)