Badri Ki Dulhania (Title Song) Lyrics from Badrinath Ki Dulhania (2017) sung by Dev Negi, Ikka, Monali Thakur, Neha Kakkar. This song is composed by Tanishk Bagchi with lyrics penned by Shabbir Ahmed. Badrinath Ki Dulhania movie stars Alia Bhatt, Varun Dhawan. And directed by Shashank Khaitan. Badrinath Ki Dulhania released on 10 March 2017.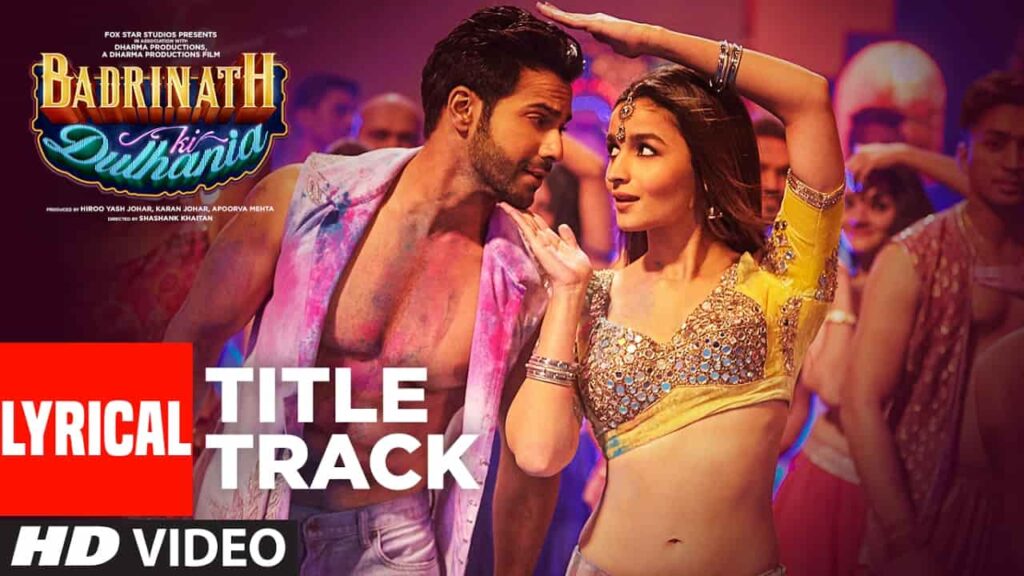 Song : Badri Ki Dulhania (Tiltle Song)
Singers – Dev Negi, Neha Kakkar, Monali Thakur, Ikka
Composer – Tanishk Bagchi
Lyrics -Shabbir Ahmed 
Additional vocals – Rajnigandha Shekhawat
Programming -Tanishk Bagchi 
Additional Programming- Ganesh Waghela
Live Rhythms & Percussions- Dipesh Varma
Musicians- Dipesh Varma,Keyur Barve,Omkar Salunkhe,Shikhar Naad Qureshi & Jignesh Patel
Dhol: Deepak bhatt's DFS.
Assistant- Chinmay Mestry
Harmonium and Banjo – Pradip Pandit 
Mix assistant engineers – Michael Edwin Pillai & Lucky
Music Label: T-SERIES
All live Instruments recorded at Yashraj Studios by Vijay Dayal
Song mixed & mastered by Eric Pillai(future sound of bombay)
Khelan Kyun Na Jaye
Tu Hori Re Rasiya
Khelan Kyun Na Jaye
Tu Hori Re Rasiya
Pooche Hain Tohe Saari Guiyan Kahan Hai
Badri Ki Dulhania, Dulhania
Kurti Pe Teri Malun Gulaal
Rang Bata Blue Ya Laal
Air Mein Tere Udte Baal
Aaja Rang Doon Dono Gaal
Are Sara Rara
Are Sara Rara
Kabira Sara Rara
Baby Ke Dekhe Jhumke
Lagaade Char Thumke
Chhichore Nache Jamke
Up Mein Din Dahade
Window Aur Chat Pe Taade
Hum Dekhen Aankhen Faade Re
Arey Arey
Tujhpe Tiki Hai Meri Naughty Nazariya
Tujhko Bana Kar Ke
Tujhko Bana Kar Ke
Tujhko Bana Kar Ke Le Jayenge
Badri Ki Dulhania
Tujhko Bana Kar Ke Le Jayenge
Badri Ki Dulhania
Rani Bana Kar Ke
Le Jayenge Badri Ki Dulhania
Muniya Re Muniya
Badri Ki Dulhaniya
Muniya Re Muniya
Badri Ki Dulhaniya
Baby Badi Bholi Hai
Baby Ki Rang Di Choli Hai
Angreji Mein Khit Pit Madam Ri
Bura Na Maano Holi Hai
Rama Rama Gazab Ho Gaya
Tere Se Nazariya Lad Gayi
Ayi Jawani Julm Hoyi Gawa
Kis Aafat Mein Pad Gayi
Are S Ra Rara
Kabira S Ra Ra A
Ho Rama Rama Gazab Hogaya
Tere Se Nazariya Lad Gayi
Aayi Jawani Julm Hoyi Gawa
Kis Aafat Mein Pad Gayi
Haye Main Mar Gayi
Sooli Pe Chadh Gayi
No No No Kehna Tha
Lekin Haan Kar Gayi
Dil Tujhko Send Main Toh Kar Gayi Re
Main Badri Ki Dulhania
Tujhko Bana Kar Ke
Le Jayenge Haan Badri Ki Dulhania
Rani Bana Kar Ke
Le Jayenge Badri Ki Dulhania
Baby Ke Dekhe Jhumke
Laga De Chaar Thumke
Chhishore Nache Jamke
Up Mein Din Dahaarhe
Window Aur Chat Pe Taarhe
Hum Dekhen Aankhen Faade Re
Tujhpe Tiki Hai Meri Naughty Nazariya
Tujhko Bana Kar Ke
Tujhko Bana Kar Ke
Tujhko Bana Kar Ke Le Jayenge Badri Ki Dulhania
Tujhko Bana Kar Ke Le Jayenge Badri Ki Dulhania
Rani Bana Kar Ke
Le Jayenge Badri Ki Dulhania
Muniya Re Muniya
Badri Ki Dulhania
Muniya Re Muniya
Badri Ki Dulhania