"Bad Romance" represents the Fear of Love Monster from the eight new songs in Lady Gaga's re-release of The Fame.
Gaga talked to Grazia about writing this record saying:
I was in Russia, then Germany, and spent a lot of time in Eastern Europe. There is this amazing German house-techno music, so I wanted to make a pop experimental record. I kind of wanted to leave the '80s a little bit, so the chorus is a '90s melody, which is what the inspiration was. There was certainly some whisky involved in the writing of the record. It's about being in love with your best friend.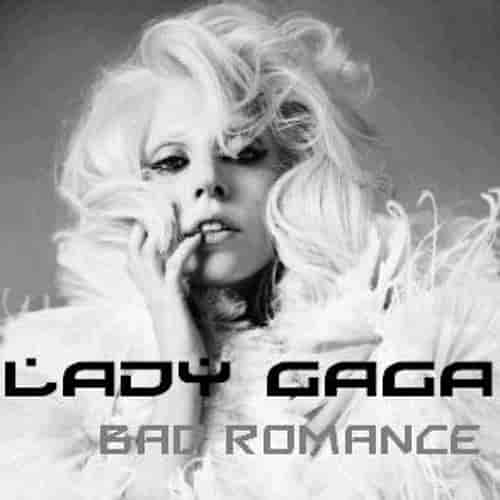 Written By: RedOne & Lady Gaga
Vocal Editor: Johnny Severin & RedOne
Performance Rights; BMI
Publisher: Sony Music Entertainment, Songs of RedOne & House Of Gaga
Engineer: Eelco Bakker, Dave Russell & RedOne
Programmer: RedOne
Instrumentation: RedOne
Co-Producer: Lady Gaga
[Intro]
Oh-oh-oh-oh-oh, oh-oh-oh-oh, oh-oh-oh
Caught in a bad romance
Oh-oh-oh-oh-oh, oh-oh-oh-oh, oh-oh-oh
Caught in a bad romance
Ra-ra-ah-ah-ah
Roma Roma-ma
Gaga, "Ooh la-la"
Want your bad romance
Ra-ra-ah-ah-ah
Roma, Roma-ma
Gaga, "Ooh la-la"
Want your bad romance
[Verse 1]
I want your ugly, I want your disease
I want your everything as long as it's free
I want your love
Love, love, love, I want your love, oh, ey
I want your drama, the touch of your hand (Hey!)
I want your leather-studded kiss in the sand
I want your love
Love, love, love, I want your love
(Love, love, love, I want your love)
[Pre-Chorus]
You know that I want you
And you know that I need you
I want it bad
Your bad romance
[Chorus]
I want your love, and I want your revenge
You and me could write a bad romance (Oh-oh-oh-oh-oh)
I want your love, and all your lover's revenge
You and me could write a bad romance
Oh-oh-oh-oh-oh, oh-oh-oh-oh, oh-oh-oh
Caught in a bad romance
Oh-oh-oh-oh-oh, oh-oh-oh-oh, oh-oh-oh
Caught in a bad romance
[Post-Chorus]
Ra-ra-ah-ah-ah
Roma-roma-ma
Gaga, "Ooh la-la"
Want your bad romance
[Verse 2]
I want your horror, I want your design
'Cause you're a criminal as long as you're mine
I want your love
Love, love, love, I want your love, uh
I want your psycho, your vertigo shtick (Shtick, hey!)
Want you in my rear window, baby, you're sick
I want your love
Love, love, love, I want your love
(Love, love, love, I want your love)
[Pre-Chorus]
You know that I want you
And you know that I need you ('Cause I'm a free bitch, baby)
I want it bad
Your bad romance
[Chorus]
I want your love, and I want your revenge
You and me could write a bad romance (Oh-oh-oh-oh-oh)
I want your love, and all your lover's revenge
You and me could write a bad romance
Oh-oh-oh-oh-oh, oh-oh-oh-oh, oh-oh-oh
Caught in a bad romance
Oh-oh-oh-oh-oh, oh-oh-oh-oh, oh-oh-oh
Caught in a bad romance
[Post-Chorus]
Ra-ra-ah-ah-ah
Roma-roma-ma
Gaga, "Ooh la-la"
Want your bad romance
Ra-ra-ah-ah-ah
Roma-roma-ma
Gaga, "Ooh la-la"
Want your bad romance
[Bridge 1]
Walk, walk, fashion, baby
Work it, move that bitch crazy
Walk, walk, fashion, baby
Work it, move that bitch crazy
Walk, walk, fashion, baby
Work it, move that bitch crazy
Walk, walk, passion, baby
Work it, I'm a free bitch, baby
[Bridge 2]
I want your love, and I want your revenge
I want your love, I don't wanna be friends
Je veux ton amour et je veux ta revanche
Je veux ton amour, I don't wanna be friends
(Oh-oh-oh-oh-oh, oh-oh-oh-oh, oh-oh-oh)
(I want you back) No, I don't wanna be friends
(Caught in a bad romance) I don't wanna be friends
Want your bad romance
(Caught in a bad romance) Want your bad romance
[Chorus]
I want your love, and I want your revenge
You and me could write a bad romance (Oh-oh-oh-oh-oh)
I want your love, and all your lover's revenge
You and me could write a bad romance
Oh-oh-oh-oh-oh, oh-oh-oh-oh, oh-oh-oh
(Want your bad romance)
Caught in a bad romance (Want your bad romance)
Oh-oh-oh-oh-oh, oh-oh-oh-oh, oh-oh-oh
(Want your bad romance)
Caught in a bad romance
[Post-Chorus]
Ra-ra-ah-ah-ah
Roma, Roma-ma
Gaga, "Ooh la-la"
Want your bad romance