"Baby" is about breaking up with someone you love and still wanting them even after you've broken up. It's the lead single off of Bieber's debut album, My World 2.0. It debuted and peaked at number five on the Billboard Hot 100.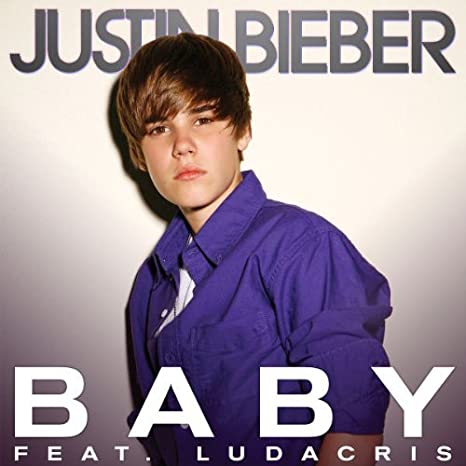 Written By: Tricky Stewart, Ludacris, Christina Milian, Tony Demash, The-Dream & Justin Bieber
Additional Keyboard: Monte Neuble
Assistant Engineer: Luis Navarro & Kevin Porter
Assistant Mixing Engineer: Giancarlo Lino
Vocal Producer: Kuk Harrell & Def Jam Recordings
Recording Engineer: Kuk Harrell & Josh Monroy
Mixing Engineer: Jaycen Joshua
Engineer: Madame Buttons, Brian "B-LUV" Thomas & Andrew Wuepper
[Intro: Justin Bieber]
Oh, woah
Oh, woah
Oh, woah
[Verse 1: Justin Bieber]
You know you love me, I know you care
Just shout whenever and I'll be there
You want my love, you want my heart
And we will never, ever, ever be apart
Are we an item? Girl, quit playing
We're just friends, what are you saying?
Said "There's another," and looked right in my eyes
My first love broke my heart for the first time, and I was like…
[Chorus: Justin Bieber]
Baby, baby, baby oh
Like baby, baby, baby no
Like baby, baby, baby no oh
Thought you'd always be mine, mine
Baby, baby, baby oh
Like baby, baby, baby no
Like baby, baby, baby no oh
Thought you'd always be mine, mine
[Verse 2: Justin Bieber]
Oh, for you I would have done whatever
And I just can't believe we ain't together
And I wanna play it cool, but I'm losing you
I'll buy you anything, I'll buy you any ring
And I'm in pieces, baby, fix me
And just shake me 'til you wake me from this bad dream
I'm going down, down, down, down
And I just can't believe my first love won't be around, and I'm like…
[Chorus: Justin Bieber]
Baby, baby, baby oh
Like baby, baby, baby no
Like baby, baby, baby no oh
Thought you'd always be mine, mine
Baby, baby, baby oh
Like baby, baby, baby no
Like baby, baby, baby no oh
Thought you'd always be mine, mine
[Verse 3: Ludacris]
(Luda)
When I was 13, I had my first love
There was nobody that compared to my baby
And nobody came between us, nor could ever come above
She had me going crazy
Oh, I was starstruck
She woke me up daily, don't need no Starbucks
She made my heart pound, and skip a beat when I see her in the street and
At school on the playground, but I really want to see her on the weekend
She knows she's got me dazing, cause she was so amazing
And now my heart is breaking, but I just keep on saying
[Chorus: Justin Bieber]
Baby, baby, baby oh
Like baby, baby, baby no
Like baby, baby, baby no oh
Thought you'd always be mine, mine
Baby, baby, baby oh
Like baby, baby, baby no
Like baby, baby, baby no oh
Thought you'd always be mine, mine
[Outro: Justin Bieber]
I'm gone, yeah yeah yeah
Now I'm all gone, yeah yeah yeah
Now I'm all gone, yeah yeah yeah
Now I'm all gone, gone, gone, gone, I'm gone